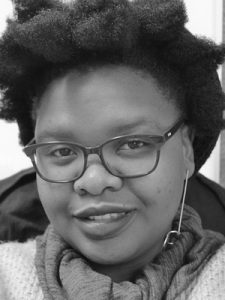 CyberBRICS Non-Resident Fellow.
Sagwadi Mabunda is a PhD Candidate at the University of the Western Cape. Her Doctoral thesis investigates the legislative responses of Cybercrime by analysing and critiquing the South African Cybercrimes Bill. She is a prolific speaker who has presented papers in a numerous conferences both in South Africa and internationally (Italy, Germany, Namibia and Botswana). She has published a number papers on her research interests which include Cybercrime and economic crimes such as International Anti-Money Laundering Law and International Anti-Corruption Law.
She has been invited to be a guest lecturer at the University of the Western Cape on the topic of Cyber Money Laundering. She has also successfully organised the first Economic Crime and Cybercrime Conference (ECCC) hosted at the University of the Western Cape in collaboration with the Journal of Anti-Corruption Law (JACL).
In 2018 at age 25, Sagwadi was honoured as one of Mail & Guardian's 200 Young South Africans.