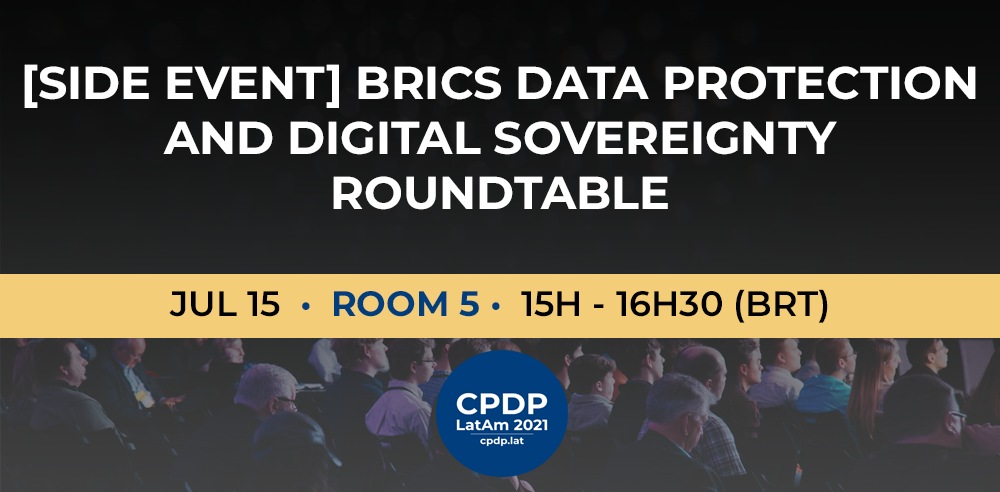 The BRICS Data Protection and Digital Sovereignty Conference will take place on 15 July 2021, at 15h/3PM (BRT). The Summit will take place entirely online, during CPDP LatAm which is the Latin-American edition of the Computers, Privacy and Data Protection (CPDP) conference. Check the full program here.
This session will discuss some of the studies submitted to the CyberBRICS call for papers on "Digital Sovereignty in the BRICS Countries: Data, Infrastructure, and Services," providing valuable – and so far, very limited – insights on digital sovereignty narratives and policies of the BRICS grouping.
While once imagined as an instrument for a borderless "global village," the Internet is currently undergoing complex processes of re-nationalization (e.g. China, Russia, India) and regionalization (e.g. EU). BRICS countries, like many others around the world, are grappling with conflicting sets of realities and desires: individual privacy and national security, data localization and cross-border data flows, digital independence and international technological trade, often driven by concurrent national priorities, international commitments, and ambitions for global expansion and influence.
This session will explore these tensions and provide initial answers that will be included in the upcoming volume on "Digital Sovereignty in the BRICS Countries: Data, Infrastructure, and Services." The session will last 2 hours.
MODERATOR | MODERADOR
LUCA BELLI
Coordinator, CTS/FGV

MIN JIANG
University of North Carolina, Charlotte and CyberBRICS Visiting Professor at FGV Law School

KEYNOTE SPEAKER
SIZWE SNAIL
Information Regulator of South Africa

SPEAKERS | PALESTRANTES | PONENTES
WANSHU CONG
European University Institute, "The Spatial Expansion of China's Digital Sovereignty: Extraterritoriality and Geopolitics"

JOHANNES THUMFART
Law, Science, Technology and Society, Brussels, "Cultures of digital sovereignty in the SCO member states China, Russia and India: Beyond political and technological determinism"

VENKATESH HARIHARAN
Ecolab, "Digital sovereignty through payments infrastructure: A case study of the National Payments Corporation of India"

HENRIQUE ESTIDES DELGADO
UC Santa Barbara, "Grounding the digital statecraft of middle powers within domestic stakeholders"

FRANCESCA MUSIANI
CIS-CNRS, "The many faces of technology-embedded power and resistance in Russia: Towards an infrastructure-based sociology of the Russian internet"

TALES TOMAZ
Unviersity of Salzburg, "Resistance to platformised opinion power: On the abscence of the BRICS in federated social networking"
To know more about Data Protection in the BRICS, you can check out the CyberBRICS resources dedicated to Data Protection:
The video recording of our CPDP 2020 session on "Data Protection Regulators in the BRICS"
The video recording of our IGF 2019 session "Value and Regulation of Personal Data in the BRICS":
The video recording of our CPDP 2019 session "CyberBRICS: challenges and opportunities for data protection in the BRICS":
The Brazilian General Data Protection Law (LGPD) – Unofficial English Version
Our brief analyses on:
• Regulatory governance under the PDP Bill: A powerful ship with an unchecked captain?
• BRICS countries to build digital sovereignty
• Personal Data in India: anonymise and forget
• In South Africa, Privacy and POPI are stress-tested by CCTV and elections
• Smart cities, personal data and citizens' rights in Brazil
• An Instant Analysis of Chinese Electronic Commerce Law
• Unpacking policy moves for sovereign control of data in India